I just want to start by thankyou you for your comments :) it made me feel so much better! xoxox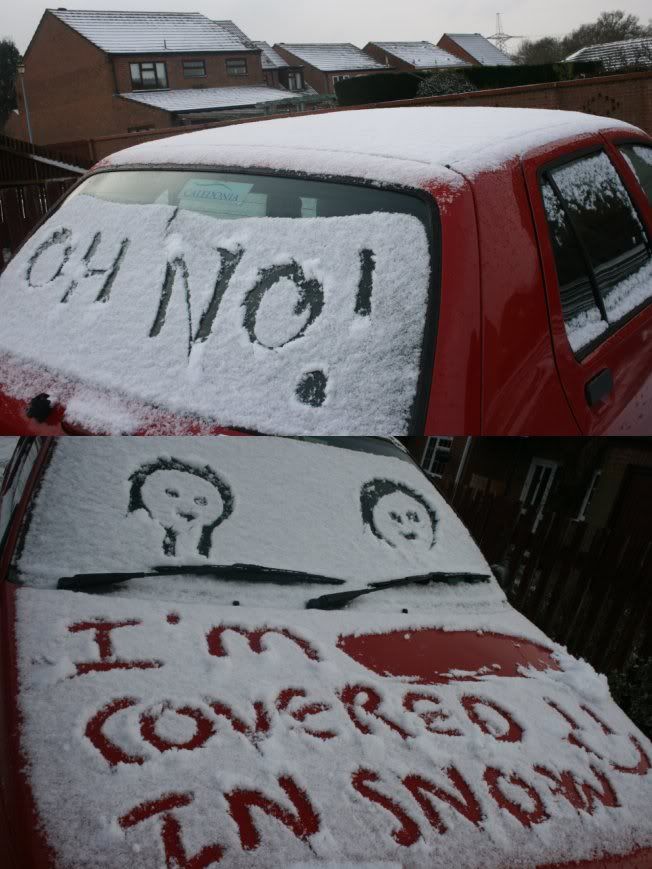 elooo
haha look at my car the other morning..
i had funn ;D but there was no way i was going anywere yaay lazy day at home,
so i had the boys over and we made a snow man:) it snowed more later so this was nothing compaired but still.. i was excited
I ran out of sauces this week ! *shock*!!*horror*!! !
so i ended up stuffing tofu with branston pickle.. haha what the hell
it actually worked pretty cool, i teamed it with yeast free- everything free stock cube.
this is just crumbled tofu in a tomato sauce on pastaa
I had it right before i went ice skating with david, i did not do well! about 15 mins in i gave up and sat on the side haha
I was set a chalange by my mum to make a meal for once that resembled theres.. haha even though they eat crap all the time i was like FINE!
I made this by chopping polenta into strips and baking it to resemble chips, i think i won ;)
Please excuse the state of this table, it was at one of my sisters ericas flat and she has a beat up old table and no cloth on it today :)
i covered my tofu in a bbq and tomato puree paste and pressed it into gluten free crumbs and then baked it.
It actually tasted so good, soo good infact that i had it the next night!! but i covered this one in only tomato puree. no frying involved!!
OKOOK this meal is weird. when u look in the cute bowl..it looks abit like jumbled everything.
and to be perfectly honest it kind of was..
I was major tired because david had been there for like 2 days and so i wasnt sleeping properly and at this stage i was so grumpy and hungry that i couldnt even walk to co-op for my usual tofu.
I guess i play it safe too often by living off tofu. haha infact ive even got tofu in my msn addy!! but i realy was lazy so i opened a packet of baked beans, mixed it with carrots, pasta, spinach and brocoli and cooked it up with some spicy sauce added.
suprisingly enough it was hell good.
This was my roast dinner, it was soya cheese,baco type biits and cherry tomato stuffed polenta and tofu with veg. it was realy nice :).. this is me just comparing it to a family members dinner :)
I STILL EAT WITH BABY KNIFES AND FORKS

and finaly.. so sorry about all the typing by the way, if you think this is bad im a million times worse in real life, i talk
NONESTOPTAKINGNOBREAKSATALL
haha it takes a long time to be able to take in all the information i say ;)
but this is a final pic of my canvas i just finished,
i did it origonly about greek mythology becasue the women they painted were bigger and i wanted proper women with proper thighs on my wall to make me remeber how important it is not to be stick thin.. they turned out not greek at all haha and kinda thinner than i wanted :S duno what happened, they looked greek in the original!!



Ignore my unmade bed thismorning, i only took it like 2 hours ago, you cant realy see the detail in the pic though on the face :/ damn itt




sorry im stopping now i always get carried awayyy

Do any of you have anything your saving up for at the moment?



camcamcamcamcam ;D